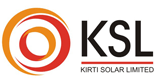 Mr. Dhiraj Bhagchandka
Managing Director
Mr. Dhiraj Bhagchandka pioneered in the field of Solar power. He has earned his masters in Financial engineering from Standford University and graduated with honors in Computer Science and Mathematics from the University of Texas at Austin. After completing masters he has worked in companies like ICICI and XOOM. He is the key founder of Kirti Solar Limited and exudes confidence on the potentiality of the growth of solar industry in India. Kirti Solar Limited has specialized into Solar PV and Thermal Power Plants from designing till monitoring of the projects. His unique thought process and leadership has made Kirti Solar one of the largest and most experienced Solar PV and Thermal companies in India.
Mr. Aditya Bhagchandka
Director
Mr. Aditya Bhagchandka had completed BSc, DeMontford University and is presently handling the business development of the company. A natural networker with excellent interpersonal skills, and confidence to approach people at all levels of seniority. He has matured important deals for the company and he is very articulate, confident communicator and presenter. In his view the solar sector in India is going to reach the highest level point depending on funding, product research and development, distribution channel.
Mr. Rachit Jalan
Director
A Commerce Graduate from Calcutta University and since then handling the Commercial and Business Development operations of Kirti Solar Limited. Mainly associated in the growing process of the company and developed the company into one of eastern India's leading solar companies. Through sound technical knowledge and expertise has successfully helped in implementing Solar PV and thermal projects in domestic, government and commercial sectors pan India. With the perfect skill, competency and ability aims to compete globally.
Mr. Vinod Kejriwal
Principal Advisor - Marketing and Business Development
Mr. Vinod Kejriwal is the part of our Senior Management team and has a very long working experience of 32 years in Projects, Finance and Business Development for various industrial products, cement and Building industry, retails apart from renewable energy. His domestic and overseas marketing and business development skills has been used to help the organization to grow into a Company of market repute and increase the market share in various states on Pan India Basis.

He has worked earlier in different premier multinational organizations before moving to KSL couple of years ago. Apart from professionally guiding the organization, he proactively takes care of the other developmental activities and provides valuable feedback to various other teams for increasing the efficiency and productivity of the teammembers, and above all to build a VALUE based Culture in the organization.
Mr. Sanjeev Tripathi
President - Technology and Product Development
Mr. Sanjeeb Tripathy is the part of our Senior Management team and has done his Masters in Technology from Indian Institute of Technology, Kharagpur. He was honored with the year 2000 Gold medal (President of India Medal) in the order of merit. He has recently got his MBA in Research and Technology Management from IGNOU. At present, he is at the completion of his Ph.D. from Indian Institute of Science, Bangalore in the area of Power Electronics for Renewable Energy Solutions.

He is having close to 14 years of rich experience in Research and Technology Development for different products and devices, especially in the field of Optoelectronics and Power electronics.

He had worked with various organizations like Bharat Electronics ( Ministry of Defense , Govt. of India), Bangalore as Senior Scientist, Honeywell, Bangalore/USA as Principal Scientist and with Indosol Energy, Bangalore as CEO before moving to Kirti Solar. He has 6 USA patents to his credit and many international publications in the field of Sensors and Solar Photovoltaic. The expertise lies in the Technology and Product Development/Management (Both indigenously as well as through national/international collaborations). He is well versed with 7 regional languages of India.
Prof. (Dr.) Biswajit Ghosh
Chief Advisor – Projects
Prof Biswajit Ghosh has certifications in M.Sc. (Physics), PhD, C.Engg., DSc. (Engg) and is also having expertise in Advanced Materials and Solar Energy Technologies, Gasification Technology, Electrochemical Technologies. Having profound knowledge in the technical arena, he is termed as an esteem indicator in various universities / institutes across the globe. Some of which are Royal Society Overseas Scientist at the University of Surrey, UK, Visiting Scientist, University of Stuttgart, Germany, Fellow, Indian Society of Lighting Engineers and Reviewer of many International Scientific & Technical Journals.
Mrs. Ananya Das
Marketing And Communications Manager
Ms. Ananya Das had completed her Post Graduate Diploma in International Businees from Globsyn Business School, Kolkata. Having more than 5 years experience in Brand and Marketing communications in Real Estate industry. Have worked with groups like Ruchi Group and Shrachi Group which are leading market players in the Kolkata. Having main strengths in brand positioning, market research and 360 degree marketing and have executed various trade shows, events, exhibitions in India. She is a team player and believe that to achieve any target for a comapany, all have to play along in the team.