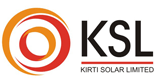 Spearheading the growth of renewables
Kirti Solar is one of the largest and most experienced solar photovoltaic & thermal companies in India. We design, manufacture, build and operate photovoltaic & thermal systems and plants from the kilowatt scale up to multi-megawatt class.

Kirti Solar has one of the largest sales/installation networks backed by an experienced team of design and integration experts. All our systems and projects are designed and integrated as per guidelines of Ministry of New and Renewable Energy (MNRE) and also the global best practises. The systems are designed to meet diversified needs - from rural electrification to powering urban growth areas, defense outposts to banking centers, residential apartments to industrial complex – in all sectors, we offer the most efficient and innovative solar systems along with attractive government subsidies and finance options.
Our Strengths:
Kirti Solar is technology neutral striving to introduce latest research & developments on global scale
Highly focussed on innovation, efficiency, quality of workmanship, maintenance and monitoring systems
Extremely competent to offer turnkey solutions in solar PV & thermal projects
Dedicated account managers and support staff to bring reliability & transparency
Global experience, local approach
Innovation | Quality | Customer Focus | Confidence
Certifications

Technology Partners

Partner Banks & Financial Institutions

Nationalised Banks

| | | | |
| --- | --- | --- | --- |
| | | | |
| Allahabad Bank | Bank of India | Union Bank | Central Bank of India |
| | | | |
| United Bank of India | Syndicate Bank | UCO Bank | Bank of Baroda |
| | | | |
| Punjab National bank | Andhra Bank | Jammu & Kashmir Bank | |

Rural Banks

| | | | | | | | |
| --- | --- | --- | --- | --- | --- | --- | --- |
| | Purvanchal Bank | | Gramin Bank of Aryavart | | Allahabad UP Gramin Bank | | Baroda UP Gramin Bank |
| | Kashi Gomti Samyut Gramin Bank | | Manipur Rural Bank | | Assam Grameen Vikas Bank | | Bangiya Gramin Vikash Bank |
| | Madhya Bihar Gramin Bank | | Jharkhand Gramin Bank | | Vananchal Gramin Bank | | Deccan Grameena Bank |
| | Andhra Pradesh Grameena Vikas Bank | | Central Madhya Pradesh Grameena Vikas Bank | | Madhyanchal Gramin Bank | | |